Guidelines for smooth classes and a good atmosphere
If you address Sharathji, please do so with respect to him and his space. Simply address him with "Namaste Sharathji" an bow your head.
Remember Sharathji has thousands of students and always does his best for everyone to have a moment of direct contact with him. Please respect this and make space for everyone as this will otherwise be restricted for everyone!
There will be a special day during the workshop for you to say thank you and to do pranam. Sharathji will inform when and how this will happen.
Here there will be the opportunity to have a photo taken with Sharathji.
According to Indian tradition one does not touch the master or point ones feet towards him while sitting down.
Be on time, bring your own mat and what else you may need for your practice.
We do not have mats, towels, oil or water for you to borrow.
Show you access card every morning at the entrance.
Only participants have access to the hall – no visitors.
We are going to be in the big hall in the back of DGI-building.
It is not allowed to take pictures or make videos during the classes.
Take off your shoes before entering the hall.
Put you mat on the floor and your belongings on the seats.
The assistants are there to help you place your mat and bag if needed.
Do not leave you belongings in the changing rooms, but rather on the seats in the hall.
Keep the floor free of things not needed for the practice.
Full primary in the front rows and part primary further back.
Follow Sharathji's count until your last asana and join again for the backbending and finishing asana.
Intermediate series starts immediately after the primary series class – be ready and prepared.
Sharathji reserves the right to stop anyone not performing an asana proficiently.
Be respectful, if he stops you and asks you to move back in the hall.
Listen to Sharathji and follow his rhythm.
Enjoy the workshop 🙂
Namaste Susanna & Jens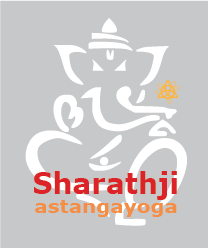 śrī gurubhyo namahaḥ