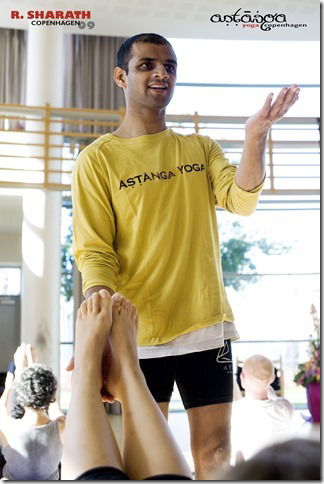 6 MORNING CLASSES AND 1 CONFERENCE
Everyone who are familiar with part of or the full primary series is welcome to the workshop. We start Wednesday 17th of July 7am with a led primary class for all participants.
Sharath will every morning from Wednesday till Monday teach led primary 7am and in his calm and steady rhythm count us through all vinyasa and asana. You are welcome even if you have not completed the primary series yet. See  the programme
Participating on the led intermediate classes Friday, Saturday and Sunday 8.30am requires that you have been taught at least till Eka Pada Sirsasana by a KPJAYI authorized or certified teacher, see the list. Sharath requests the right to stop anyone not performing an asana sufficiently. You are required to participate all 3 days – no drop-ins.
Contact Susanna if you have questions about the practice.
All classes will take place in DGI-byen – map.
Please read the advices to the classes under Guidance.
Every Morning you will need to show your entrance card upon arrival to the hall. We don't re-issue lost cards – keep it safe!
Travelling by bus or train please check out the connections here rejseplanen.dk